10 Best Hot Glue Guns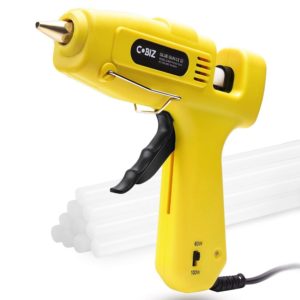 60/100W
Pre-heating 1-3 min
10 Pcs Glue Sticks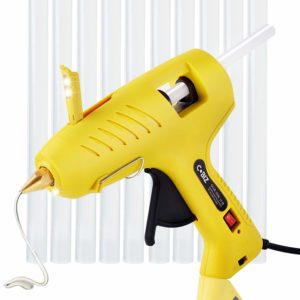 60/100W with lights
Pre-heating 2-5 min
10 Pcs Glue Sticks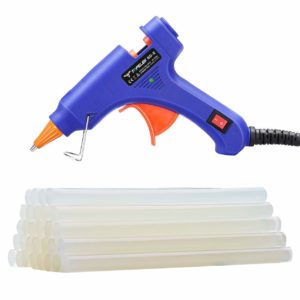 20 W
Pre-heating 1,5-3 min
30 Pcs Glue Sticks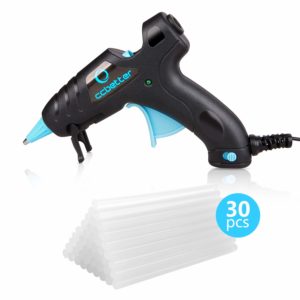 20 W
Pre-heating 3-5 min
30 Pcs Glue Sticks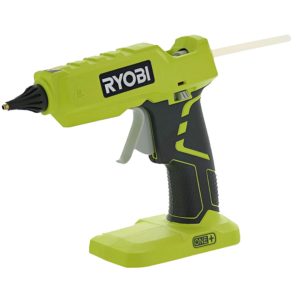 600 W
Pre-heating 2-3 min
4 amp hour battery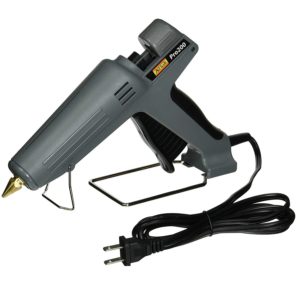 200 W
Pre-heating 3 min
Temperature of 410°F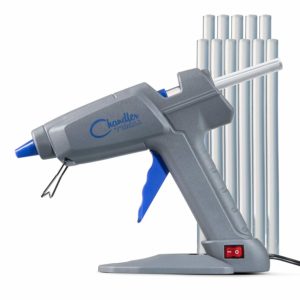 100 W
UL-safety certified
10 Pcs Glue Sticks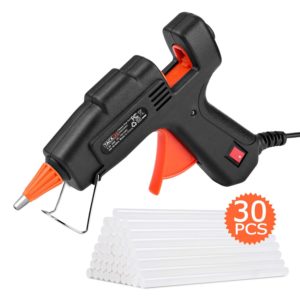 20 W
Pre-heating 1,5-3 min
30 Pcs Glue Sticks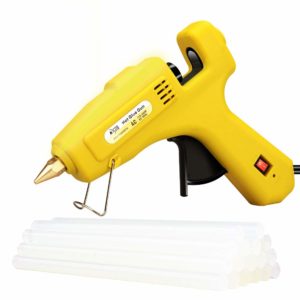 60/100 W
Pre-heating 2-3 min
16 Pcs Glue Sticks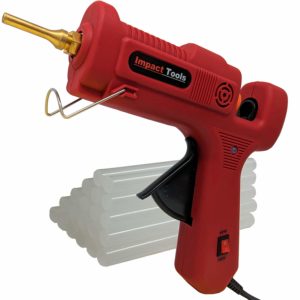 60/100 W
Pre-heating 3-5 min
20 Pcs Glue Sticks
Glue guns are essential to anyone who does arts and crafts projects or DIY repairs. These handy devices can be used to bind nearly any combination of materials. Whether you're aiming to piece together intricate architectural models or attach googly eyes to a doll, a glue gun is sure to make the process easier. With so many different options to choose from, finding the perfect model can be difficult. Read along to discover our buying considerations and top selections.
1. Cobiz Glue Gun- Best Full-Sized Glue Gun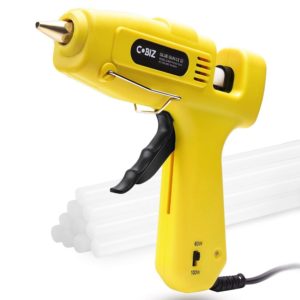 The Cobiz Hot Glue Gun heats glue safely and efficiently. It houses a powerful German-made ceramic heating element. The PTC heater automatically decreases its energy consumption when it reaches the desired temperature.
Since it only takes the Cobiz 1 to 3 minutes to heat up, you're less likely to run up your electricity bill when using the Cobiz.
The Cobiz also offers dual power settings. The settings range from 60 to 100 watts. As such, you can adjust the intensity of the heater to accommodate a wide variety of DIY projects.
The Cobiz glue gun works with full-sized glue sticks. It comes with a 10-piece pack of complimentary sticks. The sticks have a milky white color that sets them apart from inferior alternatives. We found that they melted fast. What's more, the glue sticks lacked impurities and odors.
We were also exceptionally pleased with the design of this glue gun. A textured grip and large ergonomic trigger make the gun more comfortable. The gun also boasts a reliable metal kickstand. On top of that, the gun's premium copper nozzle prevents the glue from spilling out after the trigger is released. It also has a built-in fuse that prevents overheating. Finally, the gun's LED tells users when it is heating and when the trigger is engaged.
Pros
Pros
Premium PCT heating element
Dual power settings
Drip-free nozzle
10 complimentary glue sticks
LED indicator
Metal kickstand
Cons
Cons
Not compatible with small glue sticks
---
2. Cobiz Glue Gun with LEDs – Most Illuminated Glue Gun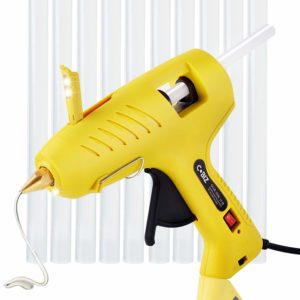 Are you ready to up your hobby game? The Cobiz offers illuminated gluing session. A lit workspace means safer more accurate adhesion. Like the previous glue gun model, this Cobiz features dual power settings for more accurate glue applications.
Users can adjust the power up to 100 watts depending on the demands of their projects. Since it takes merely 2 to 5 minutes for the Cobiz to heat up, there's no lengthy waiting time to consider.
The Cobiz boasts a LED power indicator. It also features a super bright LED that pops up and illuminates a user's workspace. On top of that, a copper nozzle keeps drips at bay. That means no more unsightly glue splotches on your projects. When you need a break or are waiting for your gun to heat up, a metal kickstand provides a solid foundation.
For just over $10, you can't beat the low price of this light-up gun. It includes 10 premium glue sticks. It's also jam-packed with premium safety elements. These include a textured grip for slip-free gluing and a safety fuse that prevents the gun from overheating.
The gun even comes with an extensive 3-year warranty, should you be unsatisfied for any reason. With that said, this American-made glue gun leaves little to be desired. We recommend this glue gun to DIYers looking for improved safety and control.
Pros
Pros
Pop-up LED light for workspace illumination
Non-drip nozzle
LED power indicator light
Built-in fuse prevents overheating
Dual power settings
Made in the United States
10 complimentary glue sticks
Cons
Cons
---
3. Topelek Mini Glue Gun Kit – Top Family-Approved Glue Gun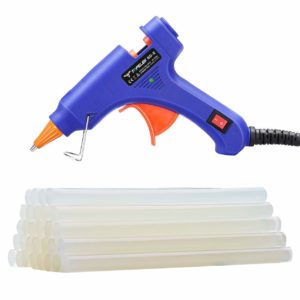 The Topelek is an great gun for classrooms and hobby shops. It features a blue plastic case with a light-up on/off switch and a flexible metal kickstand. An anti-scald heat shield keeps hands out of harm's way. What's more, the gun's trigger propulsion system makes it easy to load and unload mini sticks.
The gun even comes with 30 complimentary sticks and a well-written user manual.
At just under $8, this glue gun is exceptionally inexpensive. With a 3-minute warming time, there's no waiting around for the Topelek. What's more, complimentary sticks ensure that you can use the Topelek right out of the box. As such, we recommend it to hobbyists and craftspeople looking to build their home studios from the ground up.
Common issues, like drips, breaks, and deformations, are not a part of the Topelek experience. Instead, we witnessed precision applications and premium bonds. At such a great value, there are very few glue guns that can compete with the top-selling Topelek.
Pros
Pros
30 complimentary glue sticks
Money-back guarantee
On/off switch
Metal kickstand
20 watts of power
Heats in 1.5 to 3 minutes
Cons
Cons
---
4. Upgraded CCbetter Glue Gun – Safest Glue Gun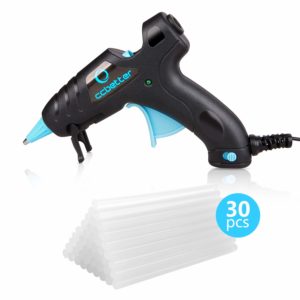 The upgraded CCbetter glue gun is a powerful miniature glue gun with 20 watts of heat. This gun warms fast. Not to mention, onboard temperature settings enable users to control the heat. As such, hot glue is always ready to be dispensed.
An onboard LED light serves as a power indicator and an integral safety feature. Meanwhile, the gun's fire-retardant shell helps users avoid unnecessary burns.
*yellow The CCbetter doesn't jam or drip. It's trigger system and insulated nozzle work together to ensure that melted glue flows freely at all times. There's no risk in buying the CCbetter, as it is backed by a 1-year warranty. You're guaranteed a full refund or replacement if you are dissatisfied in any way.
The CCbetter comes with 30 complimentary glue sticks. These mini glue sticks are a great add-on to this already affordable glue gun. On top of all that, the CCbetter comes in two unique color combinations.
We recommend this miniature glue gun for young or inexperienced crafters. While it doesn't offer commercial-strength temperatures, it boasts enough power to handle extended gluing sessions. The high-quality trigger propulsion system gives users full control over the flow of the glue.
Pros
Pros
LED power indicator
Flexible Kickstand
Insulated metal nozzle
Trigger-fed loading system
1-year warranty
30 complimentary mini glue sticks
Two unique designs
Constructed from fire-retardant materials
Cons
Cons
---
5. Ryobi Cordless Glue Gun – Top Cordless Glue Gun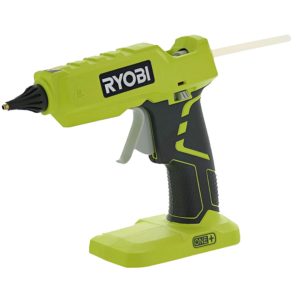 The Ryobi is a powerful cordless glue gun. It supplies 18 volts of gluing power fueled by your choice of an 18-volt rechargeable lithium-ion battery. That translates to over 3 ½ hours of continuous cordless gluing.
The gun has plenty of onboard safety features, including an LED light and an over-sized trigger. It's also exceptionally ergonomic. For example, the handle is clothed in a micro-hex textured rubber. This material prevents users from dropping their gun in slippery conditions. Since the Ryobi doesn't have a cord to weigh it down, it's the perfect glue gun for field repairs and other remote gluing jobs.
Pros
Pros
Rechargeable
18 volts of power
Micro-hex rubber grip
Oversized trigger
LED power switch
Produces a steady, hot stream of glue
Cons
Cons
Battery is sold separately
---
6. AdTech Industrial Glue Gun – Top Professional-Grade Glue Gun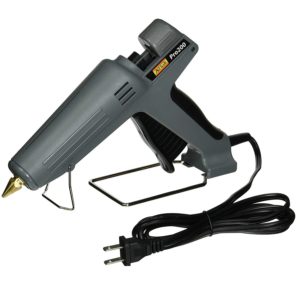 When conventional glue sticks let you down, there' always the powerful AdTech. This supreme glue gun pumps 200 watts of power through its PTC heater. That translates to 3 ½ pounds of melted glue per hour. Glue is pushed through the gun's trigger-propelled loading system, ensuring flawless transitions between sticks.
The gun's shell and trigger are made from durable hard plastic. Its fold-out metal kickstand enables safe, hands-free warming sessions. Still, it is worth noting that it only takes between 1 and 3 minutes for this gun to heat up. Once it reaches its desired temperature, the AdTech is capable of melting large (0.44-inch diameter) glue sticks. You can easily set it aside without having to worry about drips or backups.
Pros
Pros
Heats in 1 to 3 minutes
200 watts of power
Holds large glue sticks
Wide nozzle
Four-finger trigger
Stable stand
Cons
Cons
---
7. Chandler Tool Glue Gun – Most Innovative Stand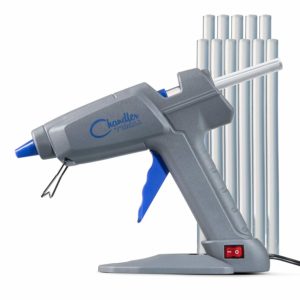 One of our biggest glue gun complaints is instability. That's why the Chandler Tool glue gun caught our attention. This gun features a tip-resistant standing base and a fold-out kickstand. The stand lets users it aside when it's not in use.
The Chandler offers 100 watts of high heat. That translates to nearly 375 degrees of melting power. The gun's LED power switch lets users know when the device is hot and ready to go. A UL safety certification ensures us that this gun is designed for its output. What's more, a lifetime warranty helps eliminate the potential for post-purchase regret.
The Chandler glue gun has a precision feeding system. As such, it provides seamless transitions between sticks. It also has an insulated drip-resistant nozzle that helps users reduce waste. On top of that, the gun includes10 complimentary glue sticks.
Pros
Pros
100-watt capacity
Trigger propulsion system
Reaches temperatures above 300 degrees
Insulated nozzle prevents dribble
Patented base
Comes with 10 complimentary glue sticks
Cons
Cons
---
8. Tacklife Mini Glue Gun – Most Budget-Friendly Pick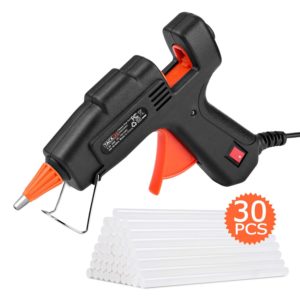 The Tacklife is a budget-friendly pick that's perfect for small repairs. It offers an impressive 130 volts of power, with temperatures maxing out at 404 degrees. It even comes with a 30-piece glue stick kit to get users started. The Tacklife heats quickly. What's more, it is capable of retaining heat for an extended period.
The PTC heating element ensures that the perfect amount of energy is being consumed at all times.
This mini Tacklife also comes with a stack of safety features. These include a safety fuse and lighted on/off switch. The gun features a handheld foundation, an ergonomic handle, and an over-sized trigger. These elements make the gun easier and more comfortable to use. Finally, a removable metal kickstand offers a safe space to store the gun when its on standby.
Pros
Pros
Overheat protection
Nozzle and loading elements prevent drips
30 complimentary glue sticks
Ergonomic handle with slip-resistant design
20 watts of heating power
Made from durable plastic and aluminum
Removable metal kickstand
Cons
Cons
Short electrical cable limits your maneuverability
---
9. KMC 60/100W Hot Glue Gun – Best Dual-Power Hot Glue Gun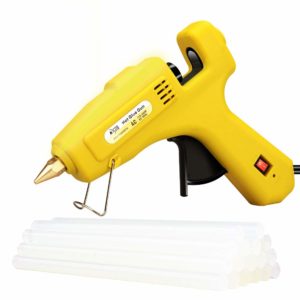 If your DIY projects require precision, this glue is a great choice. Users can switch between 60- and 100-watt power outputs depending on their gluing goals. Since it only takes 3 minutes for this gun to heat up, odd jobs and small repairs can be completed within a moment's notice.
The KMC gun features a durable and long-lasting design. Its copper nozzle prevents potentially dangerous drips.. Meanwhile, heat dissipation holes prevent the gun from becoming too hot to touch. What's more, it's easy to reload the gun in the middle of a gluing session. When it comes time to set the gun aside, a wire stand serves as a solid foundation.
The KMC is extremely popular with craftspeople, school children, and hobbyists. Its adjustable temperature settings give users full control over their projects. The gun's drip-resistant nozzle helps prevent waste. What's more, the gun's 1-year warranty provides consumers with extra quality assurance.
The KMC gun has a superior design. Its leak-resistant copper nozzle keeps hot glue from pouring out when the gun is on standby. Meanwhile, heat dissipation holes keep heat from accumulating to unsafe levels. The jam-resistant feeding system prevents inconsistencies between glue sticks. Meanwhile, a flexible metal kickstand gives users the option to set the gun down between applications.
The KMC is one of the most popular glue gun models with DIYers and professional crafters. Its flexible power settings provide users with unmatched control. The smooth flow and drip-free design make for less glue stick shrink. The gun's 24-month warranty makes it one of the most consumer-friendly models on the market.
Pros
Pros
Heats in 2 to 3 minutes
Onboard safety features
Heat dissipation holes
24-month warranty
Drip-resistant copper nozzle
Dual power settings
Wire Stand
Cons
Cons
---
10. Impact Tools Full-Sized Hot Glue Gun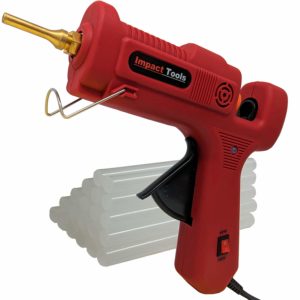 Rounding out our list of glue guns is the Impact Tools full-sized gun. This impressive device boasts dual power settings, including 60- and 100-watt options. In just 3 to 5 minutes, this gun is ready to help you achieve your gluing goals. Its long cord, a sturdy kickstand, and low-pressure trigger make applications comfortable and safe.
The Impact Tools kit even comes with 30 premium sticks to get you started.
We love that this glue gun has plenty of onboard safety features too. An internal safety fuse prevents it from overheating. Meanwhile, a pressure valve keeps glue from spewing out of the nozzle.
Pros
Pros
1.5-inch anti-drip nozzle with built-in pressure valve
Dual 60- and 100-watt power settings
Fits full-sized hot glue sticks
Comes with 20 premium glue sticks
High flow
Trigger propulsion
Internal safety fuse
Cons
Cons
---
Buying Guide
Finding the perfect hot glue gun is harder than it looks. Read along to learn more about what factors matter most.
Power
Most glue guns range in power from 20 to 200 watts. Low-wattage guns take 2 to 5 minutes to heat up and offer low-temperatures. Meanwhile, high-wattage glue guns can heat up within seconds while reaching temperatures above 400 degrees. Some guns offer dual power settings, which enable users to adjust their power settings depending on their needs.
Most glue guns are powered through an electrical cable. However, there are a few cordless models that boast rechargeable lithium-ion batteries. If you value you the ability to work remotely, a battery-powered gun may suit you well.
Temperature
While hot glue creates strong bonds, it also has the potential to damage delicate materials. As such, it is important to think about the materials you will be working with before settling on a hot glue gun. Most glue guns offer temperatures between 250 and 400 degrees.
Size
Miniature guns are ideal for precision jobs, including jewelry making and electronic repairs. Meanwhile, full-sized guns are better suited for commercial applications and jobs that require a large volume of glue.
FAQs
What type of glue stick works for arts and crafts?
We recommend purchasing a low-wattage glue gun for personal arts and crafts projects. If you're working with fabric, plastic, or other vulnerable materials, you should avoid commercial-strength guns. These may heat glue to the point where it seeps through and damages your supplies.
What materials can be adhered with hot glue?
Glue can be used on wood, metal, fabric, stone, glass, plastic, and many other materials. A single hot glue gun is capable of binding a wide variety of materials. Focus on the materials you plan to use. Then, choose a glue gun with a suitable temperature range.
What are some common issues with inferior hot glue guns?
There are plenty of common complaints related to inferior glue guns. For one, inferior glue guns are susceptible to drips and backups. Unwanted releases of hot glue are unsafe and wasteful. We recommend opting for a glue gun with an insulated nozzle or a pressure valve, as this will help to ensure that hot glue only seeps out with a squeeze of the trigger.
Are glue guns easy to clean?
Yes, it's easy to remove drips and clogs when a glue gun is warm. We recommend using aluminum foil to expel buildup from the nozzle. However, do your best to avoid touching the foil with your hands.
Video Tutorial: Cobiz 60/100 W Hot Melt Glue Gun
Final Thoughts
We hope you enjoyed our comprehensive hot glue gun buying guide! These indispensable tools are perfect for DIY projects and home repairs. As such, we recommend that everyone have at least one in their toolkits.
---